Installing the cockpit seats begins with stringers and the side walls of the seats.
Here is a head on shot of the side walls.  After setting these in place I decided there was too little foot room at the back of the boat so I decided to look for a different option.  After digging through the internet and checking out some of the builders blogs I found two different Weekenders "Molly" and "Spiritwind" that had great ideas for seating.  Sooo, I put my engineering and analytical skills to the test and build my seats with no guide other than these examples.  I did however keep notes and if anyone is interested, I will be glad to share them.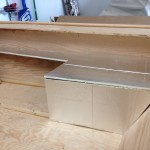 First I made a styrofoam cutout of what I wanted the seats to look like.  This included a side wall, back wall and top/seat.
Stringers are fabricated and placed into position.
Seat components are fabricated.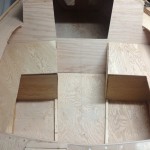 The seat box is attached to the stringers, then the seats placed on top.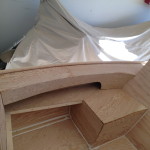 The seat backs are installed. This was tricky at the forward end of the seat back because of a step off between the seat back stringer and the deck. Despite the difficulty, it turned out really cool!